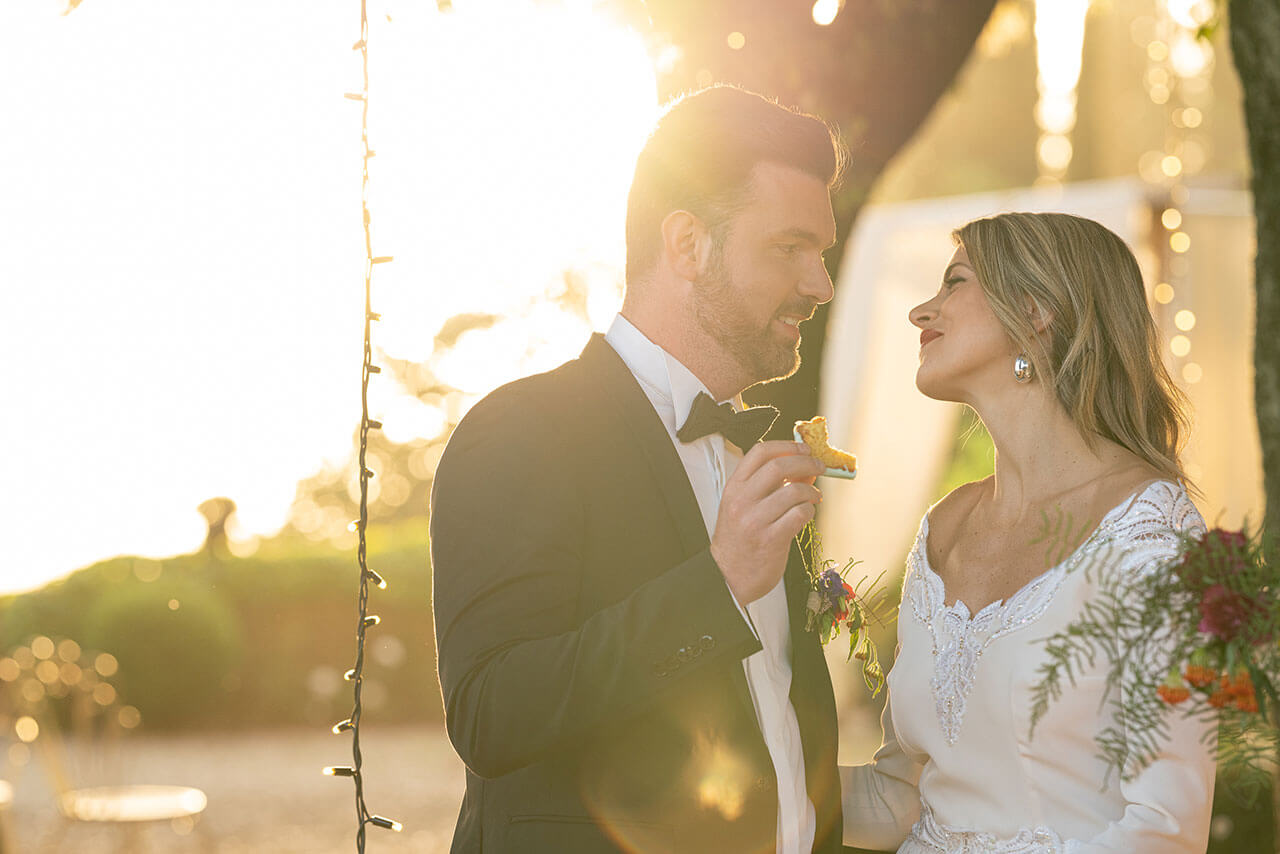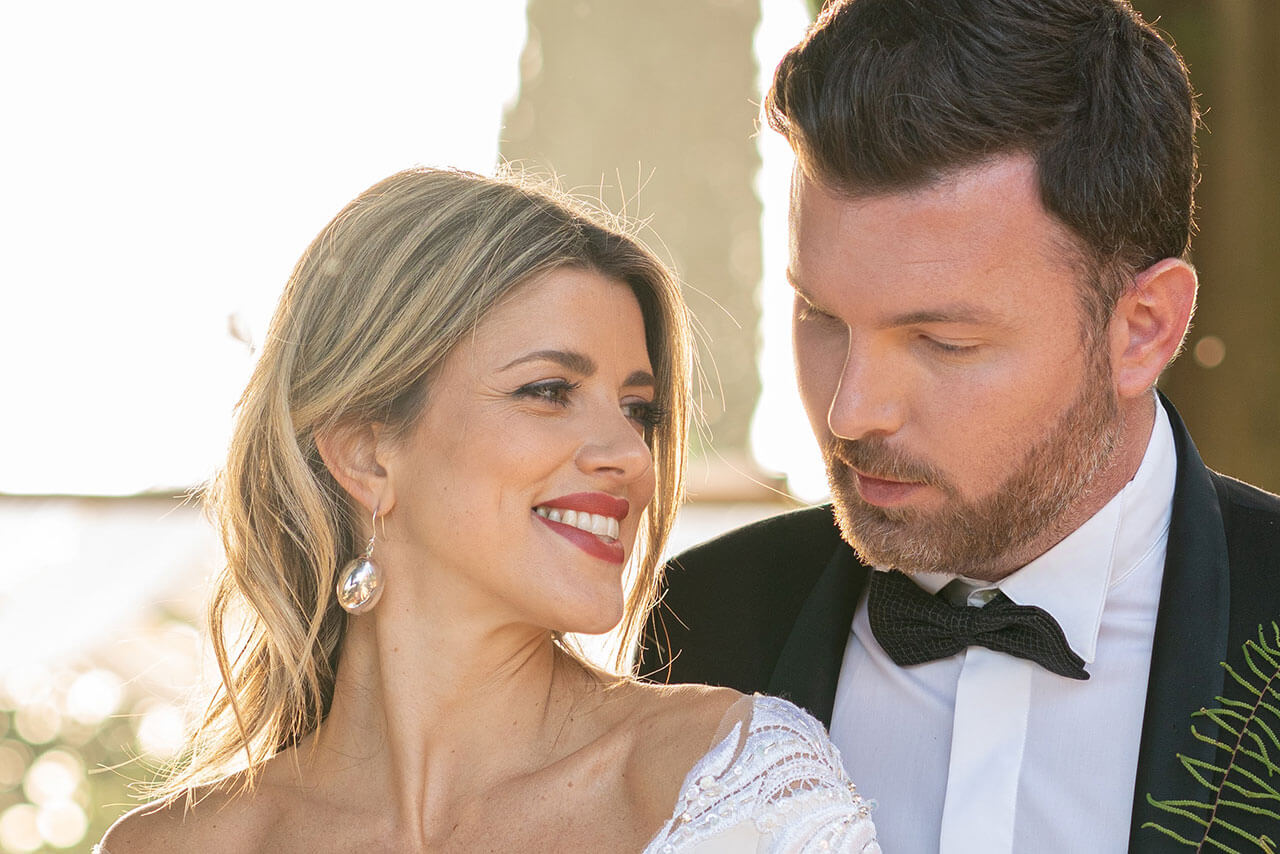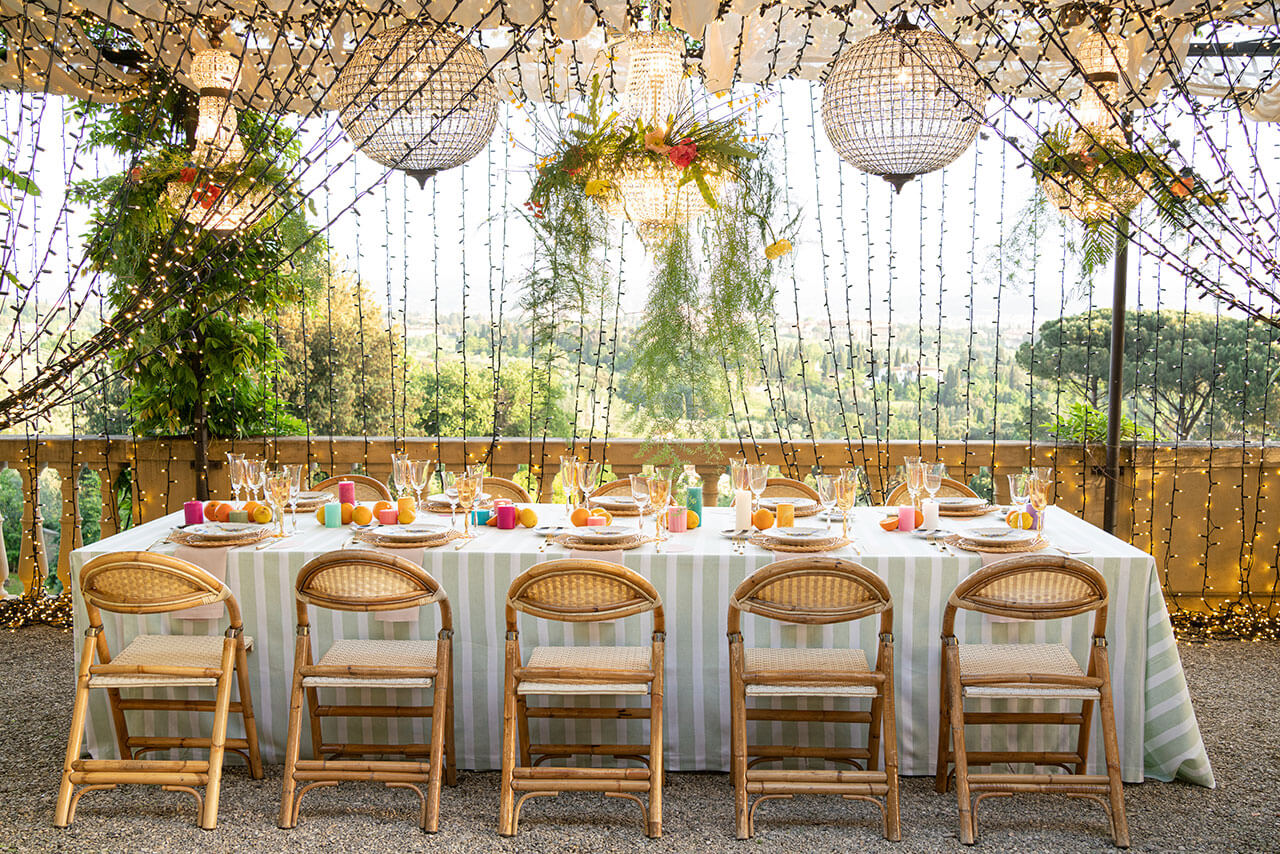 Elopement wedding overlooking Florence
17 May 2021
A small castle overlooking Florence, Villa le Fontanelle has been the setting of this romantic and colourful elopement wedding. The villa, originally a simple peasant farm, became in the XV century one of the properties of the Medici family. During the centuries the villa was home to several families, who changed its aspect many times including the project of the gardens inspired by the gothic style.
Florence as the background not only as the capital of Renaissance but as the set of the modern and colourful intimate wedding of Emma and Noah. A rainbow of colours as the frame of their vows exchange balanced and energised with touches of blacks and whites, a chessboard of chairs and the notes of a white piano played by a flower girl dressed in black. Classical elements & contemporary style have worked together throughout every single detail of this intimate wedding.
The bridal gown has been realised on a bespoke basis by Alila', a Florentine workshop of haute couture pieces. Silk, embroideries and jewels, every detail is perfectly curated by Ilaria and Alicia for making you shine on your special day. A hot red lipstick and a light makeup by Bianca del Giudice to highlight the natural beauty of the bride. So handcrafted, unique and customizable are the 925 Silver Jewels, made by Brandimarte Master Craftsmen in Florence, just like the glasses used to cheer Emma and Noah's new life together. A flower explosion created by Voglia di Verde, natural but powerful, delicate but colourful, growing on and climbing and finally even blending with the objects such as the piano, the Gothic arch and the chandeliers by the dinner table, making them alive.
The reception took place under a wisteria pergola. A tunnel of fairy lights enriched by Crystal chandeliers, all set by Alma Project. Magic and romanticism in the air, modernity and freshness on the table. For the table setting and decor I opted for contrasts to achieve the balance. Stripes meet geometric designs, block colours candles and round oranges meet the decorative Richard Ginori butterfly plates. A magic happy shiny box overlooking Florence, what's better for celebrating love?
Accompanied by jazz music from dinner to cake cut. An unconventional wedding cake made of a series of little and colourful cakes, contemporary in their aspect, and historical (and secret!) in their recipe, same ingredients since 1933 by Pasticceria Gualtieri. The Iris Cake is so called in honour of the symbol of Florence, giaggiolo bianco, whose powder is hidden among the natural ingredients.
A photo booth with a natural background for printing live the memories of an important day created by the Florentine duo of Punti di Bianco, official photographers of this story too. The full wedding stationery and favours has been curated by Tuscan Lab. Filmed by Daniele Cribari.
Credits…
photos: Punti di Bianco
video: Daniele Cribari
venue: Villa le Fontanelle
styling&planning: Olivia Sodi
flowers: Voglia di verde
bridal gown: Alilà Firenze
lighting&entertainment: Alma Project
catering: Rolands
jewels & silver glasses: Bandimarte
rentals: Preludio
stationery: Tuscan lab
cakes: Pasticceria Gualtieri
hair&makeup: Bianca del Giudice